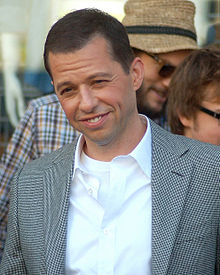 Jonathan Niven "Jon" Cryer (born April 16, 1965) is an American actor, screenwriter, director, and producer.
Biography
He is the son of Gretchen and David Cryer. Cryer made his motion picture debut in the 1984 romantic comedy No Small Affair, but found greater fame in the 1986 John Hughes-written film Pretty in Pink. In 1998, he wrote and produced the independent film Went to Coney Island on a Mission from God... Be Back by Five.
Although Cryer gained subsequent fame by starring in these films, it took several years to find success on television. The shows in which Cryer starred, such as The Famous Teddy Z, Partners, and The Trouble With Normal, did not last long. In 2003, Cryer was cast as Alan Harper on the CBS sitcom Two and a Half Men, for which he won two Primetime Emmy Awards in 2009 and 2012. Cryer received a star on The Hollywood Walk of Fame for Television in 2011.
Below is a list of his Contributions to Mom, as an Actor and Director. For more information on his Contributions to the Film Industry, please see his IMDB profile.
Filmography